Our Company
About Northscape
Northscape Inc. is a full-service landscape design & construction company that offers services in design, consultation, installation & maintenance. We have a unique focus on quality of design, and integration of inside and outside living space. Northscape was started in 2008 by partners, Jason Pummell and Simon Evans, who brought their respective talents together to form a dynamic partnership with a passion for the landscape industry.
From concept to construction, our skilled and friendly staff will transform your front and back yards to create an outdoor space that feels extraordinary. We are dedicated to working with you to create a destination where you can both entertain your guests in style, and have a personal retreat where your family and friends can relax and enjoy the outdoors.
Customer satisfaction and providing an exceptional level of quality service are the cornerstones of Northscape Inc. philosophy. We pride ourselves on delivering professional and friendly customer service.
As a professional member of Landscape Ontario, we maintain high standards in our workmanship and current knowledge of city by-laws and building code requirements.
Our Team
Jason Pummell
Jason Pummell is one of the co-founders of Northscape. Jason is a graduate from Seneca Colleges Golf Course Technician program. After years of working in the golf industry Jason brought his many talents into the landscape industry. Jason is involved in all aspects of the company, hardworking and multi talented; he maintains the highest standards of service and quality. He is also is a certified landscape lighting installer; book an appointment with Jason for any of your lighting needs.jason@northscapepro.com
Simon Evans
Simon Evans is one of the co-founders of Northscape and the principal landscape designer. Simon is a graduate of Niagara College Landscape & Horticulture Diploma course. Simon maintains a high level of involvement in each and every stage of project development and implementation, starting with the design of your project. Simon is your go-to for landscape design, maintenance and client-liaison.simon@northscapepro.com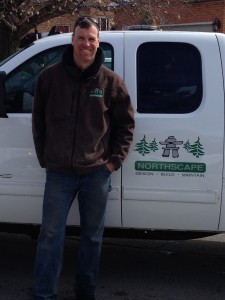 Mark Downie
Mark is our service manager/foreman; experienced in many aspects of the industry he is our go to guy for all jobs. Friendly, outgoing with a head for problem solving. Mark is one of Northscapes most valued employees.